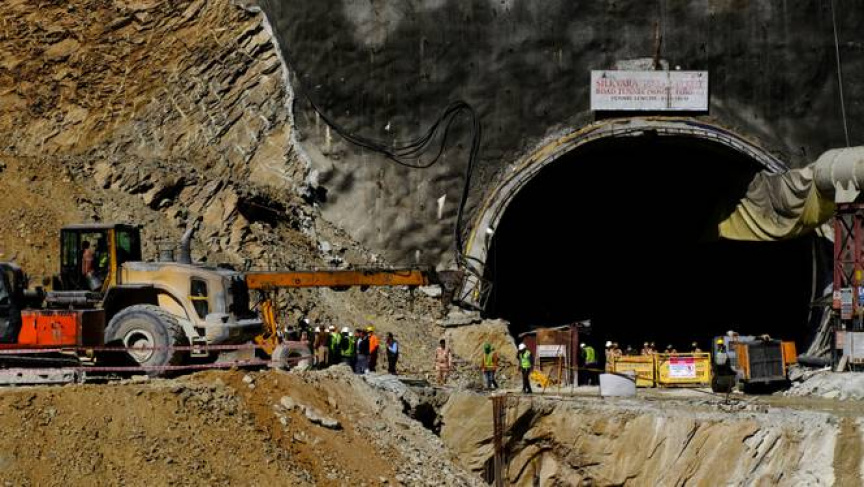 Rescue teams are trying to reach 41 workers who have been trapped in a collapsed tunnel in northern India for eight days and were contemplating alternative rescue plans after snags with a drilling machine caused them to halt digging.
Officials on Sunday were considering new angles for extracting the workers. Deepa Gaur, a government spokesperson, said this included possibly using the new machine to drill from the top of the hill, under which the workers have been trapped inside the collapsed tunnel.
This method would be more time-consuming, taking an additional four or five days, she added.
Earlier, rescue efforts hit a snag when a loud cracking sound was heard within the tunnel, startling those overseeing the operation, who paused the drilling and found parts of the machine damaged, said Tarun Kumar Baidya, director at the National Highways and Infrastructure Development Corporation Limited.
A new drilling machine arrived at the accident site in Uttarakhand state on Saturday to replace one that was damaged while breaking through the rocks and debris. They had been using the drill to create a space to insert wide pipes through which the trapped workers could crawl to their freedom.
Authorities have so far drilled 24 metres through rubble and debris, but it would require up to 60 metres to allow the workers to escape, said Devendra Patwal, a disaster management official.
High-intensity vibrations could cause more debris
Anshu Manish Khalkho, director at NHIDCL, said that after they paused the drilling on Saturday experts became concerned the drilling machine's high-intensity vibrations could cause more debris to fall and hinder efforts. The machine has a drilling capacity of up to 5 metres per hour and is equipped with a 99-centimetre diameter pipe to clear debris.
Khalko said drilling vertically from the top of the hill could also cause additional debris, but that they would opt for a specific technique designed for drilling through overburdened soil conditions where unstable ground make traditional methods more difficult. This method, experts hope, would lead to less debris falling.
One challenge, however, is that drilling from the top means they would need to dig 103 metres to reach the trapped workers — nearly double than if they carried on digging from the front.
Authorities were also contemplating drilling from the sides and the ends of the tunnel, Khulbe said.
About 200 disaster relief personnel have been at the site using drilling equipment and excavators in the rescue operation, with the plan being to push 80-centimetre-wide steel pipes through an opening of excavated debris.
The construction workers have been trapped since Nov. 12, when a landslide caused a portion of the 4.5-kilometre tunnel they were building to collapse about 200 metres from the entrance. The hilly area is prone to landslides.