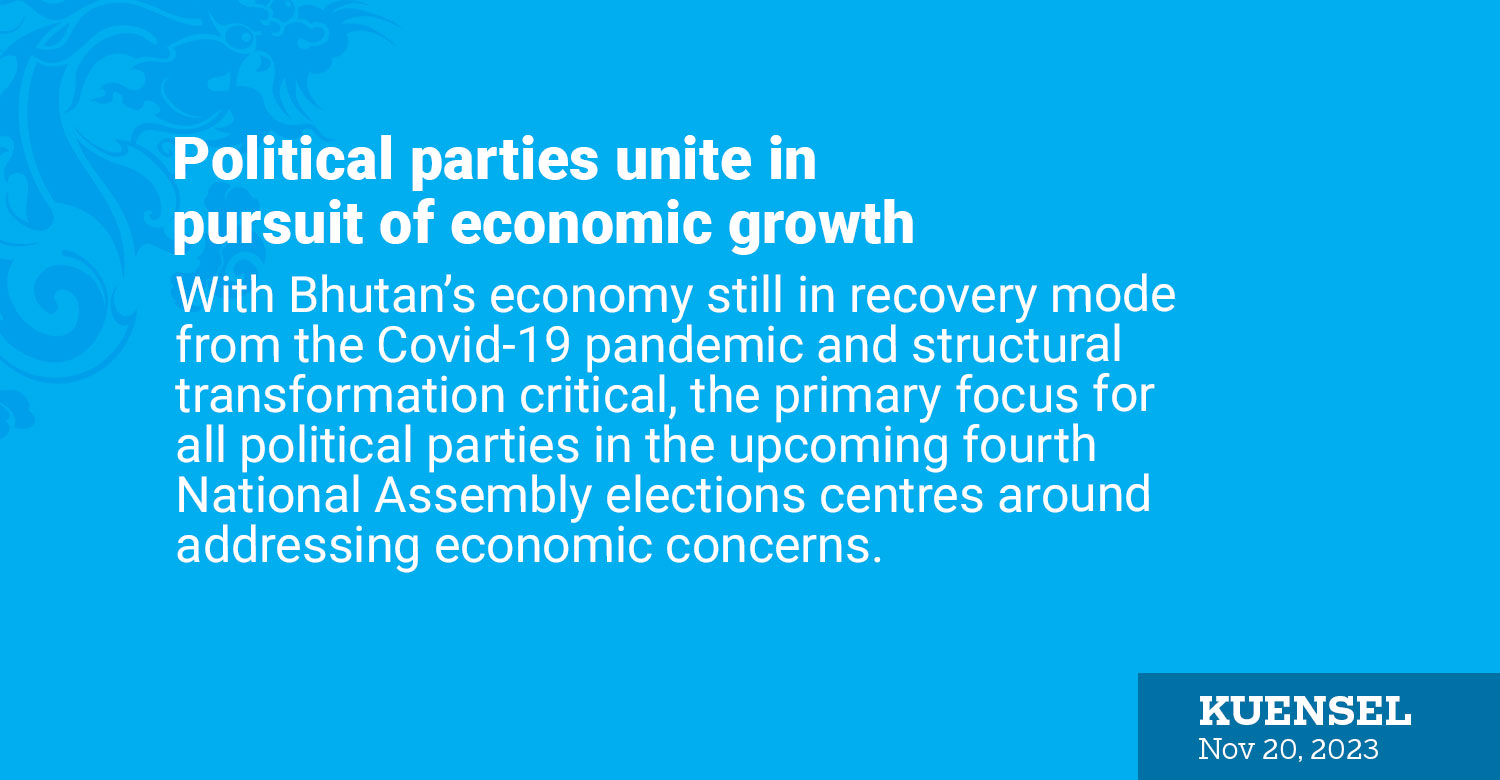 With Bhutan's economy still in recovery mode from the Covid-19 pandemic and structural transformation critical, the primary focus for all political parties in the upcoming fourth National Assembly elections centres around addressing economic concerns.
The incoming government is anticipated to address various economic challenges, including rising inflation, unemployment, debt, declining reserves, stagnant investment, and insufficient government resources.
All five political parties have aligned their manifestos with the goal of transforming Bhutan into a high-income country by 2034, in accordance with Bhutan's 13th Plan.
The 13th Plan, slated to commence in July next year, aims to achieve a USD 5 billion economy by 2029 and USD 10 billion by 2034. To achieve this, Bhutan would require more than Nu 1 trillion as investments.
All political parties have pledged to maintain various economic growth rates to attain high-income status by 2029 and 2034.
Bhutan Tendrel Party (BTP) aims for an average economic growth rate of 12 percent or more over a decade, while Druk Phuensum Tshogpa (DPT) promises an 8 percent average economic growth rate in five years. Druk Thuendrel Tshogpa (DTT) commits to a 10 percent annual real growth rate over the next 10 years.
Applying the rule of 70, achieving an annual economic growth rate of 14 percent would propel Bhutan's GDP to USD 5.8 billion by 2029.
In 2022, Bhutan's GDP stood at USD 2.9 billion or Nu 227.81 billion, with a growth rate of 5.21 percent. Notably, the economy stagnated at an average of 3.5 percent between 2010 and 2022, a significant drop from the 7.78 percent observed between 2000 and 2010.
The 2000s saw robust growth driven by the construction and operationalisation of large hydropower projects, coupled with a strong performance in the service sector, particularly tourism.
However, between 2016 and 2019, there was a slowdown in hydropower construction, lower electricity production due to inadequate rainfall, and weak growth in the manufacturing sector. The Covid-19 pandemic in 2020 led to a negative economic growth rate of 10.1 percent.
To stimulate the economy, DTT and People's Democratic Party (PDP) have pledged economic stimulus plans, with DTT proposing Nu 10 billion and PDP Nu 15 billion. BTP pledged to formulate and implement the national infrastructure plan with an estimated investment of Nu 50 billion in the first three years.
The 13th Plan envisions increasing GDP per capita to USD 4,256 by 2029 and above 12,000 by 2034 with an annual average household income from USD 5,000 to USD 30,000 by 2029 and USD 60,000 by 2034.
All political parties outline strategies in their manifestos to raise GDP per capita income. BTP pledges to increase GDP per capita to USD 7,500 and USD 15,000 by 2029 and 2034, respectively and increase average annual household income sevenfold from Nu 406,134 to Nu 3 million by the end of 2029.
Additionally, all parties commit to establishing either an Economic Advisory Council, Bhutan's Economic Development Council, or a National Economic Development Board under the Prime Minister's chairmanship.
Parties also vow to attract foreign direct investments (FDIs), reduce the country's trade deficit, national debt, and create employment.
Druk Nyamrup Tshogpa pledges to increase FDI from Nu 43.3 billion to Nu 100 billion by 2029 as outlined in the 13th Plan. PDP pledges a higher target with FDI of Nu 500 billion in the next five years, and DTT pledges green channel for FDI of Nu 100 million and source green financing of USD 1 billion in 10 years. BTP targets USD 1 billion in FDI by 2029.
Other commitments include reducing the trade deficit, with Druk Nyamrup Tshogpa (DNT) aiming for under 20 percent, BTP targeting 15 percent of GDP, and DTT and DPT providing tax incentives for exports to India and import substitutions.
With a trade deficit of 27.18 percent of GDP in 2022, Bhutan imported Nu 118.79 billion worth of goods against Nu 56.87 billion in exports.
The 13th Plan aims to create 1,000 high-end jobs annually in the digital economy, with a 10 percent share of the digital economy to GDP by 2029. BTT pledges full employment by 2029 and reduces youth unemployment below 10 percent, whereas DNT and PDP aim for 97.5 percent employment with 5,000 jobs in the digital economy.
The manufacturing sector's share of GDP is set to increase from 6 percent to 15 percent by 2029, with PDP targeting 30 percent and DTT 20 percent.
In the tourism sector, PDP aims to increase tourist arrivals to 300,000 annually, with 50 percent from third countries, while DNT targets 150,000 paying and 200,000 Indian tourists annually.
DTT promises to simplify the sustainable development fee (SDF) to encourage repeat visits, targeting an annual revenue of USD 500 million and 30,000 jobs by the third year. BTP and DPT also pledged to review the SDF to make it more affordable for the visitors.
BTP also pledges to maintain inflation below 5 percent, addressing the recorded 7.35 percent in 2022.
Parties also aspire to bring down Bhutan's national debt, which has risen from 55.6 percent in 2011 to 134.8 percent by September 2023, amounting to Nu 272.97 billion.
BTP and DPT aim to reduce interest rates for loans in consultation with the Royal Monetary Authority (RMA) while DNT to reduce interest rates in identified sectors like agro products, minerals, forest products, handicrafts, textiles among others.
PDP and BTP promised loan deferment support while PDP also promised to introduce special loan schemes tailored for businesses affected by the Covid-19 pandemic in consultation with the RMA.