The pageant had 84 candidates who were competing to take the 2022 crown from American R'Bonney Gabriel
November 19, 2023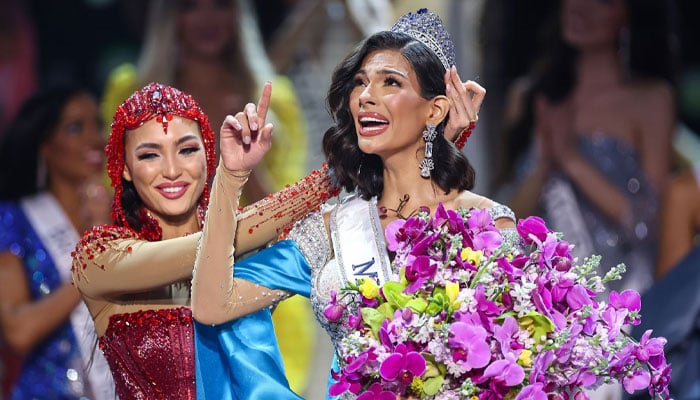 Sheynnis Palacios and the country of Nicaragua being crowned Miss Universe
The Miss Universe 2023 competition, which took place in El Salvador on Saturday, November 18, crowned Sheynnis Palacios and the country of Nicaragua.
Meanwhile, Australia's Moraya Wilson was the second runner-up and Thailand's Anntonia Porsild was crowned first runner-up.
The pageant had 84 candidates who were competing to take the 2022 crown from American R'Bonney Gabriel, who won the contest last year.
Along with Nicaragua, Miss Puerto Rico, Thailand, Peru, Colombia, Nicaragua, Philippines, El Salvador, Venezuela, Australia and Spain were the top 10 finalists for the title of Miss Universe 2023.
The pageant this year had been an inclusive affair as mothers, married women, members of the LGBTQ+ community, and a plus-size model among the contestants. Moreover, Miss Nepal made history as the first plus-size model in the competition.
Many other models also marked their firsts on the show. Erica Robin, 24, is the first Miss Pakistan to compete in the pageant. Robin is a model fighting against gender bias and inequality in the workplace.
Miss Colombia Camila Avella, 28, who is married with one child, was the first married contestant in the show.