"Weapons, ammunition and explosives were also recovered from the killed terrorists," says ISPR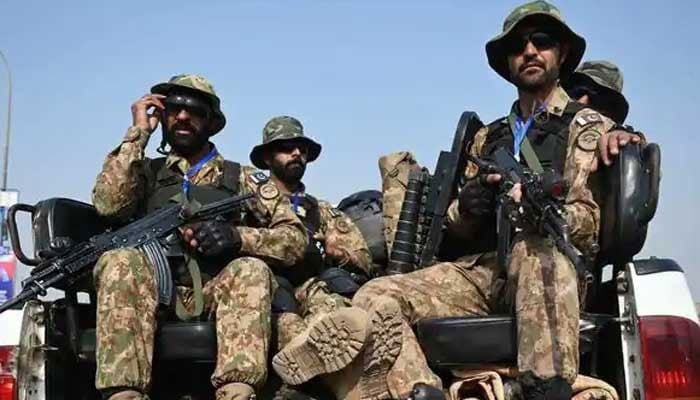 Pakistan Army soldiers gear up for an operation against terrorists. — AFP/File
RAWALPINDI: Security forces gunned down four terrorists, including a militant commander, during an intelligence-based operation (IBO) in Khyber Pakhtunkhwa's North Waziristan district, the military's media wing said on Saturday.
According to a statement issued by the Inter-Services Public Relations (ISPR), the intelligence-based operation was conducted in the general area of Khaisoor in North Waziristan on the reported presence of terrorists.
The troops effectively engaged the terrorists' location and as a result, four terrorists were killed, including a high-value target — terrorist ring leader Ibrahim alias Musa, who was highly wanted by the law enforcement agencies, read the statement.
"Weapons, ammunition and explosives were also recovered from the killed terrorists, who remained actively involved in numerous terrorist activities."
The ISPR further said that sanitisation of the surrounding areas was being carried out to eliminate any terrorists found in the area, as the security forces of Pakistan are determined to wipe out the menace of terrorism from the country.
Earlier this week, four militants, including a high-value terrorist commander, were gunned down by security forces in an IBO in the suburbs of Peshawar.
During the operation, the troops "effectively engaged" the miscreants which led to the killing of the four terrorists including a "high-value terrorist" Samiullah alias "Shenay".
The nation of 240 million has faced a surge in terrorism in recent months, with the Tehreek-e-Taliban Pakistan (TTP) and other militant outfits intensifying their actions against security forces.
In response, the state has also launched operations to curb terrorism.
Centre for Research and Security Studies (CRSS), in a report released in October, noted that the security forces lost at least 386 personnel in the first nine months of 2023, marking an eight-year high.