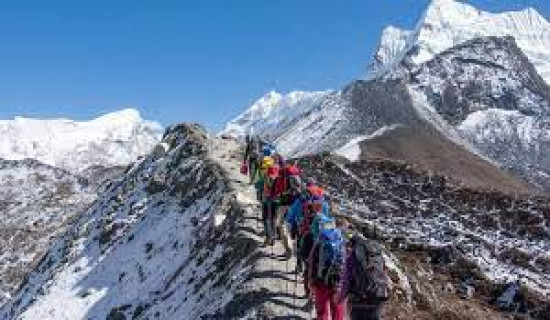 Nov 18: A total of 24,409 foreign tourists visited the Annapurna conservation area in the month of Kattik (mid-October to mid-November).
The number includes 7,479 tourists from South Asian countries and 16,930 from other countries.
Since the beginning of 2080 BS, the month of Kattik saw the third highest number of tourists arrival following the month of Baisakh and Asoj, said Dr Rabin Kadaria, the Chief of Annapurna Conservation Area Project or ACAP. In Baisakh, 31,951 tourists visited the ACAP region while 28, 705 tourists reached the area.
In the seven months of 2080 BS, 125,534 foreign tourists have visited the Annapurna region. The number was 95,911 in the same period the previous year.
"Tourism in the Annapurna region, which had slowed down due to the COVID-19 pandemic, is gradually picking up pace ", Dr. Kadaria said, "By the time the second tourist season of the year starts arrival of tourists is likely to increase further."
The ACAP maintains the data of only foreign tourists entering the Annapurna circuit. The number of domestic tourists cannot be ascertained. However, domestic tourists coming for a visit to Mustang and Manang by road is significant.
Dr Kadaria said that there is a heavy flow of domestic and foreign tourists in various destinations along the Annapurna circuit including Annapurna Base Camp, Mt Mardi, Ghandruk, Tilicho Lake, Thorangla Pass, Upper Mustang, Ghodepani etc.
The Annapurna conservation area is spread over an area of 7600 square kilometers.
It may be noted that Secretary General of the United Nations, Antonio Guterres, too had reached the Annapurna base camp during his recent visit to Nepal. (RSS)