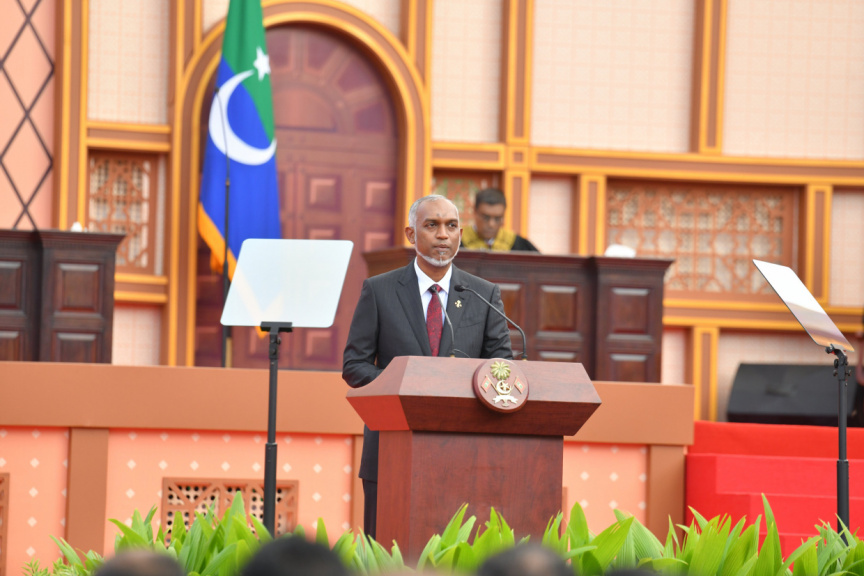 Newly sworn-in President Dr. Mohamed Muizzu has decided against lowering the national flag after 6:00pm, effectively immediately.
He announced the decision during his inaugural address to the nation after taking oath of office on Friday evening.
In this regard, Muizzu said the national flag has colors across it in a certain order and it follows a certain rule.
"It shows that a society needs rules, regulations, and order among its people to maintain its independence. Hence, the flag reminds us that our nation will be truly ours, truly Maldivian, when the society is united by the true values of our Maldivian people. By supporting each other in reviving the good and reforming the not so-good," he said.
Maldivian national flag. (File Photo/Sun/Fayaz Moosa)
Muizzu went on to say that the sun will never set on the flag as of today.
"Starting today, our proud flag will be the most honorable symbol that will fly in every island of the Maldives," he added.
Muizzu's inaugural address is a strong testament to his nationalism.
In this regard, he reiterated his pledge to prioritize the revival of nationalism during his administration.
With this decision, the national flag will no longer be lowered after 6:00pm daily.
Prior to this, national flags hoisted at government offices and other establishments are usually lowered at 6:00pm.