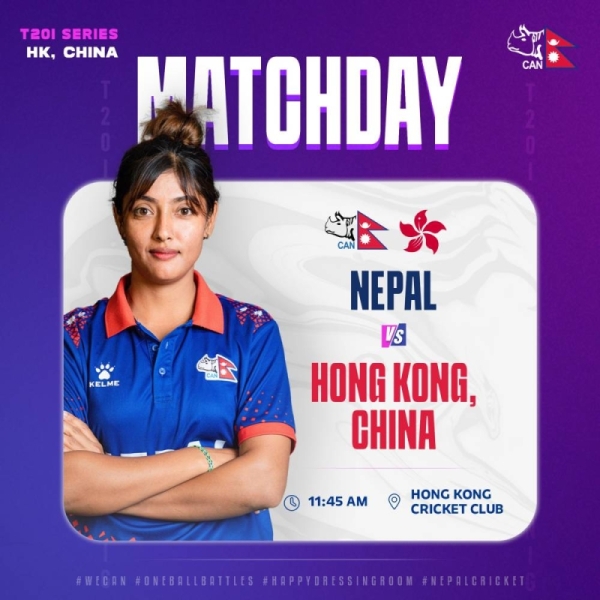 KATHMANDU, NOVEMBER 16: Nepal is playing its second match against Hong Kong today under the women's four-nation T20 Series underway in Hong Kong.
The match will take place at 11:45 am (Nepal time). Nepal is under pressure to win this match to make it to another level as it already suffered a defeat against Tanzania by 27 runs on Wednesday.
On the other hand, Hong Kong will confirm the title clash as it earlier won against Japan on Wednesday in its first match. The next group match is being held between Tanzania and Japan today at 7:15 am. Winning the toss, Japan is fielding.
In its first match, Nepal lost to Tanzania by 27 runs. The match has been participated by four countries--hosts Hong Kong, Nepal, Tanzania and Japan. Nepal is ranked 21st in the ICC rankings, Tanzania 19th, Hong Kong 22nd and Japan 51st.
Nepal is playing its final group stage game against Japan on November 18.
The Nepali cricket squad for the match are captain Indu Barma and other players, Bindu Rawal, Rubina Chhetri, Sita Ranamagar, Asmina Karmacharya, Kajol Shrestha, Kanchan Shrestha, Khusi Dangol, Sangita Rai, Soni Pakhrin, Somu Bista, Puja Mahato Roma Thapa and Samjhana Khadka. Coach for the national women cricket team is Manoj Katuwal.