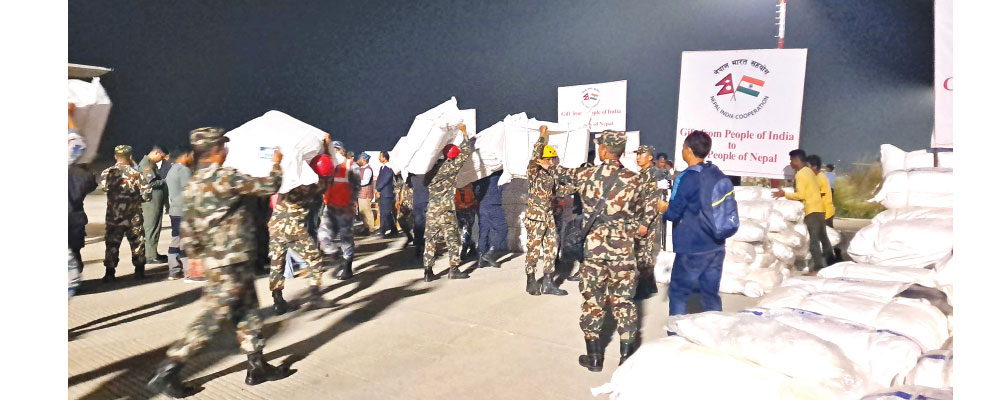 Nov. 7: The relief materials sent by the Indian government to the earthquake victims were dispatched to Jajarkot and Rukum West on Monday.
Chief District Officer of Banke, Shrawan Kumar Pokharel said 11 tonnes of relief materials, which were transported to Nepalgunj by the Indian Air Force on Sunday, have been loaded onto four trucks along with other relief supplies and were dispatched to the quake-affected districts.
According to him, two trucks of relief materials have been sent to Jajarkot, and two other trucks have been dispatched to Rukum West.
The relief materials that arrived on Monday would be dispatched on Tuesday, he added.
CDO Pokhrel said that the relief materials provided by the government and various organisations have also been sent to the earthquake-affected areas.
"The relief materials dispatched to Jajarkot and Rukum West on Monday consist of 625 plastic tarpaulins, 1,000 sleeping bags, 1,000 blankets, 70 large tents, 35 packets of tent accessories, 48 types of medicines and other essential materials," said Pokhrel. These supplies are critical for providing shelter and medical assistance to the earthquake victims, he added.
The relief materials were handed over to Deputy Prime Minister and Defense Minister Purna Bahadur Khadka by Naveen Srivastava, the ambassador of India to Nepal at Nepalgunj Airport on Sunday afternoon.
The Chief of Karnali Provincial Police, Deputy Inspector General Bhim Prasad Dhakal said, "As the rescue operation approaches its conclusion, there is a growing demand for essential supplies, including food, medicine, plastic tarpaulins, beddings etc."
Stating that the relief materials have started arriving, DIG Dhakal expressed his confidence that the problems arising from the scarcity of essential supplies would be solved as soon as possible.