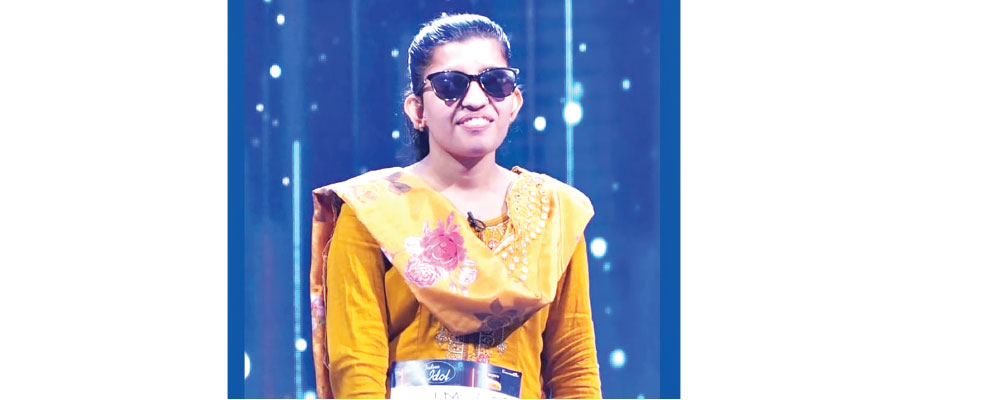 Kathmandu, Nov. 7: Nepali singer Menuka Poudel has proven herself to be the best singer with her mellifluous voice on the Indian popular reality show 'Indian Idol Season 14', currently being aired by Sony Entertainment Television.
She had previously participated in 'Nepal Idol Season- 1' and India's popular reality show, 'Sa Re Ga Ma Pa' in 2018.
Menuka, the 25-year-old visually impaired woman, has had a passion for singing since her childhood. She gained recognition and fame at the national and international levels after participating in the first season of 'Nepal Idol' held in 2017. Despite being adored by the judges and the audience, she had faced elimination in the first season of 'Nepal Idol'.
After being eliminated from 'Nepal Idol', she took part in the Indian singing reality show 'Sa Re Ga Ma Pa' the following year. In that show as well, she excelled with her soulful voice, leaving no stone unturned to dazzle 'Sa Re Ga Ma Pa' with her euphoric voice. In the show, she managed to reach the top 11. Despite being eliminated in both 'Nepal Idol' and 'Sa Re Ga Ma Pa', she came back with a solid voice and participated in the 'Indian Idol Season 14' this year.
In the audition round of 'Indian Idol', Menuka's performance left judges Shreya Ghoshal, Kumar Sanu and Vishal Dadlani deeply contained. Shreya, an acclaimed Indian vocalist, could not hold back her tears upon beholding Menuka's performance. Menuka's soulful rendition of the late legendary Lata Mangeshkar's 'O Paalan Haare' not only earned her a standing ovation from the judges but also secured her a coveted 'golden mic', ensuring her a direct entry into the Theater Round.
After winning the Golden Mic, one of the judges, Shreya, sang her 'Bajirao Mastani' song 'Mohe Rang Do Laal' together with Menuka, who followed her steps impeccably, leaving the other two judges in awe.
In the theatre round, Menuka showcased her versatility by performing the evergreen classical song 'Tumhein Dekhti Hoon' from the movie 'Tumhare Liye'. Her performance touched the hearts of everyone. Kavita Krishnamurthy, a renowned playback singer and one of the judges in the theatre round, was captivated by Menuka's melodious voice and praised her for her exceptional talent.
She managed to secure a top 15 position in 'Indian Idol' thanks to her unique and angelic voice that connects with the hearts of the audience,
In the latest episode aired on Saturday, Bollywood's legendary filmmaker Mahesh Bhatt was the guest. After hearing Menuka's mesmerising voice while singing 'Gali Mein Aaj Chand Nikla' from the famous 1998 film 'Zakhm', which Bhatt himself had directed, he could not contain his emotions.
Judges Shreya Ghoshal, Vishal Dadlani, along with Mahesh Bhatt gave a standing ovation to Menuka. After the performance, Mahesh hugged Menuka and kissed her on the head
Bhatt said, "I am convinced today that we can see with our soul through which you see the world. My daughter, the moon that you have shown has never been seen before," said Mahesh while hailing Menuka's performance.
Born in Haldiwari-4, Jhapa in 1998, Menuka was visually impaired by birth.
She started studying at a hostel at the age of four, and during her stay in the hostel, she heard the sounds of Tabla, harmonium and other musical instruments.
With the influence of seniors and teachers in the hostel, she was enticed into the world of music at a very early age.
In a television interview in Nepal, she shared, "Since childhood, my days and nights were spent with music"
She was interested in chanting hymns during her childhood and took part in school-level and district-level competitions. Before coming to 'Nepal Idol', she participated in Radio Nepal's national singing competition and won the first place.
Her musical journey in Kathmandu began in 2015. After completing her School Leaving Certificate (SLC), she joined Sirjana College of Fine Arts in Kathmandu to study music.
Menuka is the first contestant in 'Indian Idol' with Nepali citizenship. Earlier, Prashant Tamang of Darjeeling, India, had won the third season of Indian Idol.